Tia's House
Juan's Tia stood across the courtyard with a quizzical look on her face as her nephew ushered three strange men through the courtyard door. Single and in her seventies, she had spent her entire life in her fathers home. Shaking each of the strangers hands, two from Chile and one a gringo, she graciously answered questions. No, she wasnt sure how many generations had lived in the house, but her father had told her that it was old when he was a boy. Yes, the wood beams and plaster were original, but the tile in the courtyard had been patched and replaced. Yes, she would be happy to give a quick tour.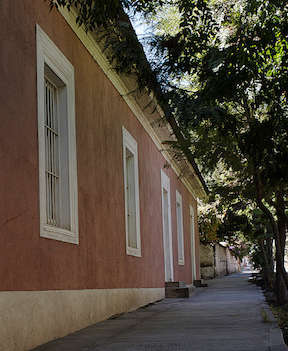 A classic Mexican courtyard home, the house presents a windowless plaster facade to the street. Entry is through a small door in one side of a larger double wooden carriage door. The courtyard is surrounded by disconnected rooms, access from one to the next is under a covered porch. Bedrooms, a modern bathroom, an ancient kitchen and a living area all facing the tile courtyard where an elderly avocado tree grows providing shade and nourishment.


Before automobiles, the house served as a way-station for traders traveling up from the Tierra Caliente to Guadalajara. Tia's grandfather provided lodging and cared for traveller's horses in the back garden. Tia had one more room to show her guests. A showroom filled with new caskets, some on display, some stacked vertically in reserve. Tia serves as the town's funeral director, providing caskets, crucifixes and flowers for her friends and neighbors.

Juan and the strangers say their goodbyes, step into their truck and resume their own journey, following the route of those early traders on the road north to Guadalajara. Blessed by a glimpse into a world not their own.